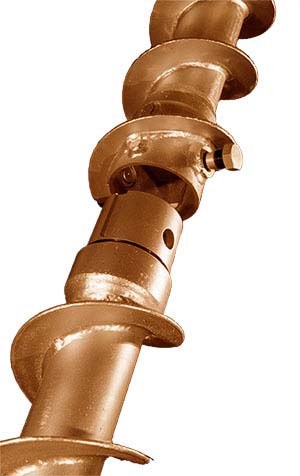 Strength, simplicity and durability.

The key is in the coupler.
The two most important features of an auger coupling are strength and simplicity. CME gives you both. Our field-proven dual key coupler provides a strong connection you can depend on. The simplicity of the design means quicker connections for greater overall drilling efficiency. The dual key coupler also allows you to reverse the augers in the hole without worrying about joints coming apart. Connections are quickly and easily made by simply sliding the joints together and installing the auger connector bolts. To uncouple, just unscrew the bolts and slide the joints apart. And every CME hollow auger pin and box coupling, every CME auger key, connector bolt and threaded insert is manufactured in our St. Louis factory so you can count on quality and consistency from every CME hollow auger tool.


Patented O-ring seal helps isolate the annulus of the auger column
Each connection features a patented O-ring seal which provides two major benefits. First, the seal helps prevent material on the outside of the auger column from leaking into the annulus of the auger column. That means your samples are less likely to be contaminated by material from outside the targeted sampling zone. Secondly, in fluid circulation drilling applications, the seal helps contain drilling mud or water inside the auger column.


Field-proven design and construction
CME augers are tough enough to tackle the most challenging drilling conditions. That's because we use only premium grade steel for all components. We also hardsurface the outside edge of the entire auger flight for maxi­mum durability. Auger flighting dimensions, including outside diameter and pitch, are designed to efficiently convey soil cuttings with a minimum amount of drilling torque.


Heavy-duty and extra-heavy-duty augers give you an extra edge
CME heavy-duty and extra-heavy-duty augers give you the extra edge you need for today's highly competitive drilling industry. The heavy-duty augers feature larger keys and larger auger connector bolts. The couplings have thicker walls and are tapered so they slide together and apart even easier. This is especially advantageous when you're drilling in fine sands or silts. CME extra-heavy-duty augers have all the features of our heavy-duty augers, plus even thicker tube walls and thicker flighting for maximum strength. These augers are designed for high-torque rigs. They'll handle the most demanding job with confidence.


Custom augers can solve special drilling problems
Our double and triple flight lead augers provide extra strength and weight for starting holes in abrasive or cobble filled formations where maintaining initial hole diameter can be difficult. If your rig has especially high retract capabilities, you might be interested in our 4-1/4" or 6-1/4" XHDS hollow augers. They have oversized connector bolts which provide more surface contact area for withstanding exteme pullback forces. These are just a few examples of things we do to help make your drilling program more efficient and therefore more profitable.


See Product Catalog for Part Numbers, Accessories, and Replacement Items