---
Hollow Stem Auger (HSA) Assembly
Hollow Stem Augers | Hollow Stem Auger Assembly | Hollow Stem Auger Center Drive System | Hollow Stem Auger Accessories | S-Series Cutter Heads | Hollow Stem Auger Sizes | Continuous Flight Augers

1. Drive cap - The CME hollow auger drive cap has a shank to fit the drill spindle adaptor assembly and a keyed auger box coupling that fits over a hollow auger pin coupling.

2. Drive cap bolt and nut - Connects drive cap to rod-to-cap adaptor.

3. Rod-to-cap adaptor - Connects top center rod to drive cap.

4. Auger connector bolt - Secures each hollow auger connection.

5. Key-way - Allows augers to be rotated in forward or reverse under full rotary power while applying down pressure or retract forces to the auger column.

6. Patented O-ring seal - O-ring seal installed in groove on auger pin helps prevent contaminates from leaking into the auger column and drilling fluids from leaking out.

7. Hollow stem auger section - Auger flighting diameters and pitch are designed for maximum conveyance of soil cuttings with minimum drilling torque. Entire length of flighting is hardsurfaced for long-term abrasive wear resistance.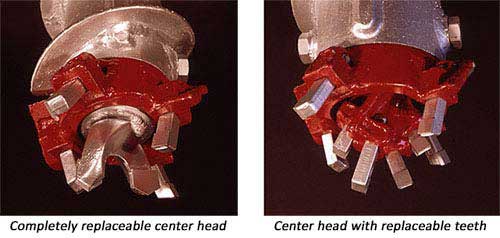 8. Drill rods - Threaded drill rods connect rod-to-cap adaptor to pilot assembly with center head.

9. Pilot assembly - Includes center head and connects to first center rod.

10. Auger head - Multi-use hollow auger head with replaceable forged steel, tungsten carbide tipped teeth.

11. Replaceable carbide insert tooth - Easily changeable forged steel, tungsten carbide tipped teeth are designed with the ultimate combination of hardness, durability and size for optimum cutting efficiency and long life.

12. Center head - Center heads used with 2-1/4" (5.7 cm) through 3-3/4" (9.5 cm) ID hollow augers are completely replaceable. Center heads used with 4-1/4" (10.8 cm) ID hollow augers can be either completely replaceable or have replaceable teeth. Center heads used with larger hollow augers have replaceable teeth.

See Product Catalog for Part Numbers, Accessories, and Replacement Items


| | | | | | | | | |

| | | | | | | |

| | | |


Copyright© 2023. Central Mine Equipment Company. A Missouri Corporation. All rights reserved.

4215 Rider Trail North · Earth City, MO 63045 · · · Fax (314) 291-4880 · ·

8:00 a.m. - 4:30 p.m. Central Time (CT)

Proudly made in the U.S.A. since 1928.