Hydraulic feed system for low overhead clearance
The unique feed system of the CME-55LC drill provides a full 72 inch stroke without hydraulic cylinders that normally extend above the feed frame of the drill. The hydraulic feed system provides 27,615 pounds (12,526 kg) of retract force and 19,750 pounds (8,959 kg) of down pressure. The split feed slide bushings are easily replaced after normal wear intervals, and the standard upright gives you the clearance to drill with up to 10-1/4 inch inside diameter hollow stem augers.
Quick disconnect mast
The quick disconnect mast can be secured in its storage rack and removed from the drill by simply sliding the drill back with the hydraulic in/out slide base control. "Quick-cabling" sheaves allow you to easily move the hoist lines from the mast sheaves to the low clearance sheaves provided above the drill frame.
Cummins diesel power
The CME-55LC is powered by a Cummins QSF 3.8 turbocharged diesel engine meeting tier-4 final emissions standards. Cold weather starting aid and engine protection shutdown systems are standard equipment.
Mechanical rotary drive
Rugged mechanical standard rotary drive provides 7,780 foot pounds (10,548 Nm) of torque and rotary speeds of up to 800 rpm. Other rotation and torque combinations are available, including a high-torque rotary drive that gives you up to 9,425 foot pounds (12,778 Nm) of torque and rotary speeds of up to 665 rpm. The five speed transmission is connected to the drill engine through a heavy-duty 13 inch clutch. With five forward gears and one reverse, there is a rotation speed and torque combination for just about any situation. The mechanical drive system also gives you a better feel for drilling conditions down the hole. It allows you to sense the need for changes in feed pressure and rotational torque.
Control logic — the key to driller productivity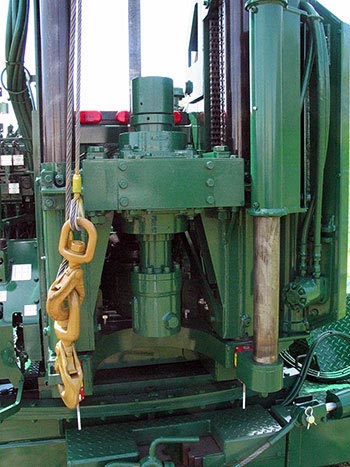 All drilling and set-up controls are logically arranged on the control panel located at the driller's station. The most commonly used functions, such as the feed, hydraulic hoist, and sliding base levers are staggered for easier identification and operation. Also a lock out position for the clutch lever to prevent accidental engagement.
Patented spindle brake stops rotation in an instant†
Our emergency spindle brake can stop rotation in less than a revolution. The system is activated by two conveniently located push button switches as well as strategically located multi-directional wobble switches.
Tool storage
The CME-55T trailer is designed specifically for CME-55 drills which means best possible weight distribution and use of available space. Four tool boxes provide plenty of storage. Tool boxes are mounted forward to help distribute the weight evenly on the trailer. Drill rod and auger rack are mounted over the fenders on both sides of the CME-55T trailer.
Leveling system
The CME-55T trailer is equipped with three hydraulic leveling jacks. Two jacks are mounted at the rear and a third is at the front. The 36-stroke jack cylinders make it easy to level the rig regardless of the site conditions.
† Patented by Central Mine Equipment Company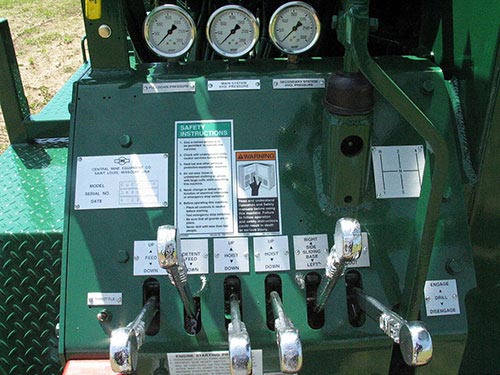 55LC Features | 55LC Specifications | 55LC Optional Equipment
Performance ratings are based on engineering specifications, calculations and accepted industry standards.
Capacities may vary according to drilling conditions. CME reserves the right to amend these specifications at any time, without notice.