---
Rubber Tire ATV Mounted Drills | Truck Mounted Drills | Track Carrier Mounted Drills | Trailer Mounted Drills | Skid Mounted Drills
CME-55 Trailer Mounted Drill Specifications
55 Features | 55 Specifications | 55 Optional Equipment
Cummins QSF 3.8L (229 cubic inch) 120 horsepower (89 kilowatt) 4-cylinder turbocharged diesel engine with electronic throttle, engine protection shut down, and cold weather starting aid meets U.S. EPA tier-4 final emissions standards.
Rotary drive
Clutch, heavy duty
Transmission

5 speed forward, 1 speed reverse

Standard Rotary Box

7,780 foot pounds (10,548 Nm) max spindle torque
800 rpm max spindle speed

High Torque Rotary Box

9,425 foot pounds (12,778 Nm) max spindle torque
665 rpm max spindle speed
Hydraulic feed system
Retract force

28,275 pounds (12,826 kg)

Pulldown force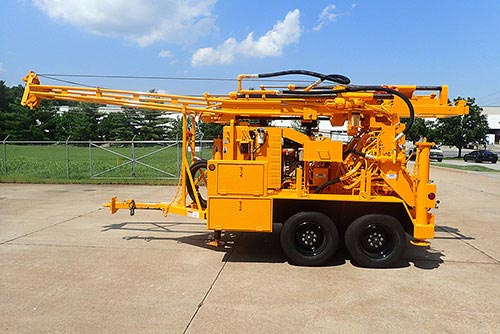 Retract rate

35 feet (10.6 m) per minute

Rapid Retract rate

90 feet (27.4 m) per minute

Feed Rate

55 feet (16.2 m) per minute

Stroke
CME 55T Trailer
16,000 pound capacity (7257-kgs)
Tandem axle with electric brakes
Brakes lights, turn signals, running lights and lighted license plate meeting DOT requirements
Pintle-type hitch
Four watertight tool boxes
Two auger/drill rod racks
Three hydraulic leveling jacks, 36 inch (91.4 cm) stroke
† Patented by Central Mine Equipment Company
Performance ratings are based on engineering specifications, calculations and accepted industry standards.
Capacities may vary according to drilling conditions. CME reserves the right to amend these specifications at any time, without notice.


TRANSLATE THIS PAGE 100+ LANGUAGES!