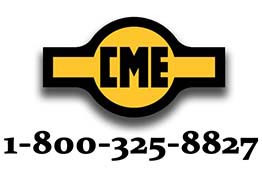 ---
Rubber Tire ATV Mounted Drills | Truck Mounted Drills | Track Carrier Mounted Drills | Trailer Mounted Drills | Skid Mounted Drills
CME-55LC/300 Rubber Track
Drill Specifications
55LC/300 Features | 55LC/300 Specifications | 55LC/300 Optional Equipment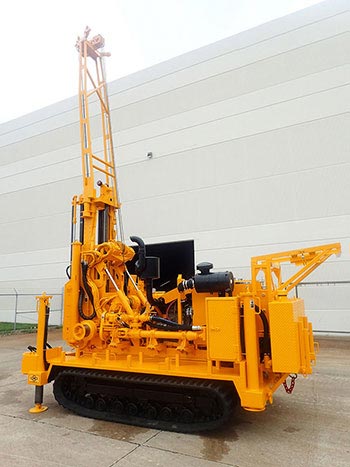 Engine
Cummins QSF 3.8L (229 cubic inch) 120 horsepower (89 kilowatt) 4-cylinder turbocharged diesel engine with electronic throttle, engine protection shut down, and cold weather starting aid. U.S. EPA Tier-4 final emissions certified diesel engine.
Carrier
Steel core reinforced rubber tracks with embedded steel grousers
12 inch (30.5 cm) wide tracks standard, 18 inch (45.7 cm) tracks optional
Hydraulic track tensioning system
Walking beam suspension
Zero turn radius
Single speed hydraulic motor/planetary drive/brake assembly for each track. Optional two-speed drive available.
Remote radio controlled steering and track speed
Hydraulic front winch, 15,000 pound capacity (6,804 kg), remote controlled
Emergency towing capabilities
Front auger rack, drill rod rack helper side, tool boxes both sides
Gradeability
Straight ahead climb
Side-hill traverse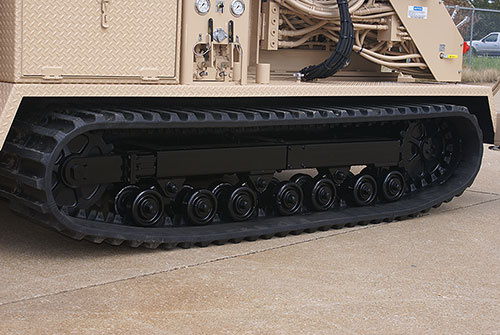 Rotary drive
Clutch, heavy duty 13 inch (33 cm)
Transmission, mechanical 5 speed forward, 1 speed reverse
Standard Rotary Box

7,780 foot pounds (10,548 Nm)
800 rpm

High Torque Rotary Box (optional)

9,425 foot pounds (12,779 Nm)
665 rpm

Hollow spindle

Standard: 2-3/4 inch I.D. (7 cm)
Optional: 3-3/4 inch I.D. (9.5 cm)
Hydraulic feed system
Retract force

27,615 pounds (12,526 kg)

Pulldown force
Retract rate

45 feet (13.7 m) per minute

Rapid Retract rate

95 feet (29 m) per minute

Feed Rate

65 feet (19.8 m) per minute

Stroke
Mast

20 foot (6.1 m) from slide base to sheaves
Quick disconnect mounting
Leveling system
Four jacks, inverted design with chrome-plated piston rods enclosed at all times.
Performance ratings are based on engineering specifications, calculations and accepted industry standards.
Capacities may vary according to drilling conditions. CME reserves the right to amend these specifications at any time, without notice.


| | | | | | | | | |

| | | | | | |



Copyright© 2020. Central Mine Equipment Company. A Missouri Corporation. All rights reserved.

4215 Rider Trail North · Earth City, MO 63045 · · · Fax (314) 291-4880 · ·

8:00 a.m. - 4:30 p.m. Central Time

Proudly made in the U.S.A. since 1928.