---
Rubber Tire ATV Mounted Drills | Truck Mounted Drills | Track Carrier Mounted Drills | Trailer Mounted Drills | Skid Mounted Drills
CME-1050 Rubber Tire
ATV Mounted Drill Specifications
1050 Features | 1050 Specifications | 1050 Optional Equipment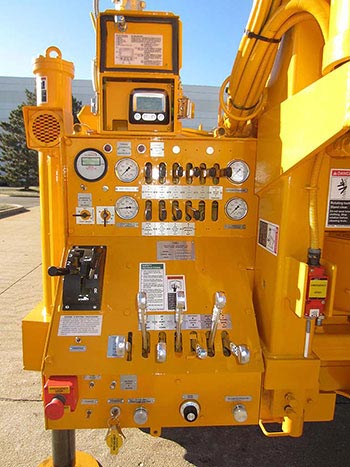 Engine
Cummins QSB 6.7L (409 cubic inch) 160 horsepower (119 kilowatt) 6 cylinder turbocharged and charge air cooled diesel engine.
Carrier
Tire size:

Front―48 inch (122 cm) diameter x 25 inch (63 cm) wide
Rear―48 inch (122 cm) diameter x 31 inch (79 cm) wide

Ground Bearing pressure:

9 psi (.63 kg/cm²) (typical, unloaded)

Transmission:

4 speed forward, 4 speed reverse

Transfer case:

mechanical controls for drill, rear axle (4x2) and front axle (4x4)

Axles (front and rear):

planetary with no-spin differentials
wheel end service brakes

Steering:

hydraulic power
tilt steering wheel

Front winch: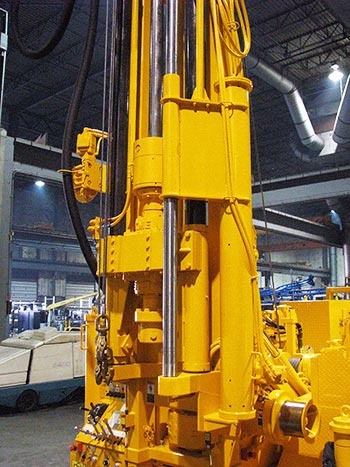 Body

Hydraulic roll-out underbody auger rack, both sides
Tool box on deck, helper side
Front end auger rack
Rod rack on deck, helper side

Leveling system

Three hydraulic jacks, 36 inch (91.4 cm) stroke
Drill
Rotary drive

Rotary torque: 24,700 foot pounds (33,489 Nm) max
Rotary speed: up to 430 rpm max

Transmission

4 speed forward, 4 speed reverse

Hollow spindle 3-5/8 inch I.D. (9.2 cm)
Angle drill capability
Retract force

48,100 pounds (21,818 kg)

Pull down force

28,225 pounds (12,802 kg)

Retract rate

85 feet (26 m) per minute

Feed Rate

74 feet (23 m) per minute

Stroke
Mast

30 feet (9.14 m) from ground to sheaves

Hoist

10,000 pound (4,536 kgs) capacity planetary drive
Performance ratings are based on engineering specifications, calculations and accepted industry standards.
Capacities may vary according to drilling conditions. CME reserves the right to amend these specifications at any time, without notice.


TRANSLATE THIS PAGE 100+ LANGUAGES!