The CME-1050 gives you the drilling performance of a big truck-mounted rig but has only about 25 percent of the ground bearing pressure. This high flotation lets you negotiate mud, snow, sand and rocky terrain that would stop even all-wheel drive truck-mounted drills in their tracks. The CME-1050 can eliminate the need for expensive access roads. That means you can be even more competitive when bidding on those really big jobs that are hard to get to. The bottom line is, you can get to remote drill sites easier, quicker and more economically. With the drilling power to get the job done right.
Versatile enough to tackle almost any job
The CME-1050 can also handle those everyday jobs that don't require off-road mobility. Since it's not over width, the CME-1050 is easily transported on a trailer. Any time of the day, any day of the week…without special permits. The rubber tires will not damage most paved surfaces. And a front axle disconnect allows you to shift from 4-wheel drive to 2-wheel drive to prevent axle wind up when driving on pavement.
But when the going gets rough, this drill has the ultimate combination for off-road traction
Planetary axles put the gear reduction at the wheels. That means less stress on the other drive train components. And no-spin differential gives you true 4-wheel drive pulling power. The 48 inch (122 cm) diameter tires are flexible and tend to flatten out on the bottom. This provides more ground contact area and lower ground bearing pressure per square inch. The aggressive lug design provides a deep, sharp bite for even, steady pulling in soft terrain. And the open-center-pattern assures efficient self-cleaning action. For optimum drilling performance, we designed the CME-1050 to be heavier in the rear. So, to keep ground pressure bearing the equal on all four wheels, we put wider, 31 inch (78.7 cm) tires on the back (compared to the 25 inch [63.5 cm] wide tires up front). The front axle oscillates when traveling on uneven terrain, allowing all four tires to remain on the ground for better traction and load distribution.
High ground clearance and low center of gravity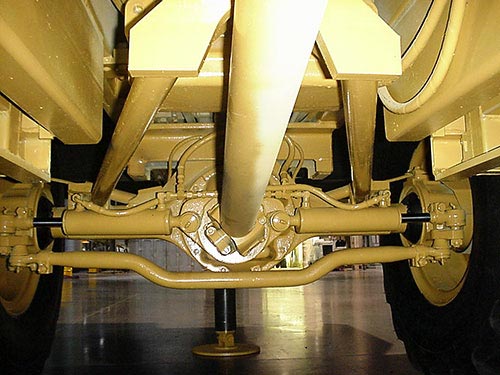 The under side of the CME-1050 is protected by a steel belly pan. There are no protrusions under the carrier to hang up in logs or rocks. And in order to keep the center of gravity as low as possible, we mounted the drill to the center of the carrier frame, in between the tires.
Integral design gives you completely self-contained drilling unit with no compromises
Since we designed the carrier ourselves as an integral part of the overall drill, we were able to utilize all space to the best advantage. The deck layout provides plenty of easily accessible storage area for augers, rods and other drilling tools. A lockable tool box on deck and two under body hydraulic auger racks, one on each side of the rig, are standard. The CME-1050 can carry everything to get the job done.
Single engine provides big savings
Cummins QSB 6.7L (409 cubic inch) 6 cylinder turbocharged and charge air cooled diesel engine provides power for both driving and drilling. This single engine offers big savings in both your initial investment, when compared to a dual engine ATV drill rigs. It also means savings in overall weight, space, and maintenance.
Cab forward design adds stability and extra deck storage
The cab is located in front of the drill for a low center of gravity. This arrangement also provides extra deck space for tool boxes, storage areas or a water tank. The cab features an engine ECM display for monitoring the engine. For operator convenience, we even designed a tilt steering wheel system that makes getting in and out of the cab easy. A rollover protection structure (R.O.P.S.), which meets SAE specification J1040C, is standard on the CME-1050.
24,700 foot pounds (33,489 Nm) of rotary torque…from an ATV-mounted drill rig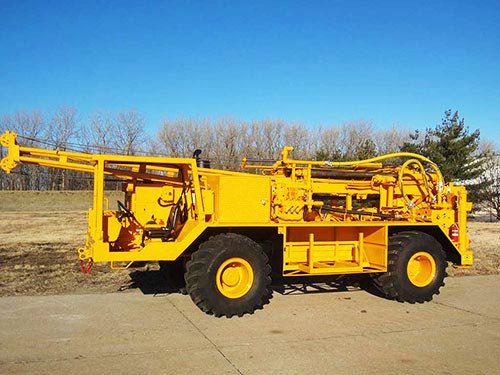 You might expect to see that kind of power on a big truck-mounted drill. The CME-1050 brings it to you on an ATV carrier. The rugged, mechanical rotary drive with power-shift transmission gives you 24,700 ft. lbs. (33,489 Nm) of torque for turning large diameter augers, as well as rotation speeds of up to 430 rpm. Other optional rotation speeds and torque combinations are also available for your specific drilling applications. The power-shift transmission features hydraulically actuated clutches and a torque converter that provides shock overload protection. With four gears in both forward and reverse, there's a rotation speed and torque combination available for any situation.
Hydraulic feed system provides over 48,000 pounds of retract force and 28,225 pounds (12,800 kg) of down pressure
A machine with big torque capability for deep auger borings needs big retract force to make sure those tools come back. The CME-1050 does not disappoint. The vertical drive system offers 48,105 pounds (21,818 kgs) of pullback force. And the twin 75 inch (190 cm) stroke hydraulic feed cylinders positioned on either side of the drill spindle so all of that power is directly in line with the tool string. Rapid retract feed can pull back at speeds up to 84 feet (25.6 m) per minute. A detent down feed lever combined with individual pulldown pressure, feed rate and feed holdback controls allow you to dial in for any formation and tool string weight.
Control logic ― the key to operator productivity
Drilling and set-up controls are logically arranged on a control panel located at the drillers station. For added convenience, we've staggered the most frequently used controls, such as the hydraulic hoists and sliding base levers.
10,000 pound (4536 kg) hydraulic hoist is standard
The hoist is controlled by a single lever located at the driller's station. Fast line speeds of 72 feet (22 m) per minute up and 310 feet (95 m) per minute down mean excellent hoisting efficiency.
Standard 30 foot (9.1 m) mast
The mast on the CME-1050 measures 30 feet (9.14 m) from the crown sheaves to the ground. This means you can handle 25 foot (7.6 m) tool strings with each hoist line.
Patented spindle brake stops rotation in an instant†
An emergency spindle brake stops rotation in less than one revolution. This system is activated by two conveniently located push button switches as well as by strategically located wobble switches.
Slide bases make the job easier and quicker
A 18 inch (46 cm) in-out slide movement allows you to quickly move the drill off the bore hole and align the sheaves for lifting tools with the cathead or any of the hoists. Up to 7 inches (18 cm) of sideways movement (depending on the in-out slide position), gives you even more versatility.
Patented angle drilling system is standard†
This unique system is especially effective for drilling under ponds, storage tanks or other structures. When used with our patented Continuous Sample Tube System, you can even take soil samples while drilling angle holes. The angle drilling system will also allow you to drill vertically on an up hill slope. That can eliminate the time consuming job of leveling the rig. The kelly drive is always coupled to the right angle drive box through a universal joint. You can raise or lower the mast with the drive train already connected and ready to go.
† Patented by Central Mine Equipment Company
1050 Features | 1050 Specifications | 1050 Optional Equipment
Performance ratings are based on engineering specifications, calculations and accepted industry standards.
Capacities may vary according to drilling conditions. CME reserves the right to amend these specifications at any time, without notice.