Rough terrain or city streets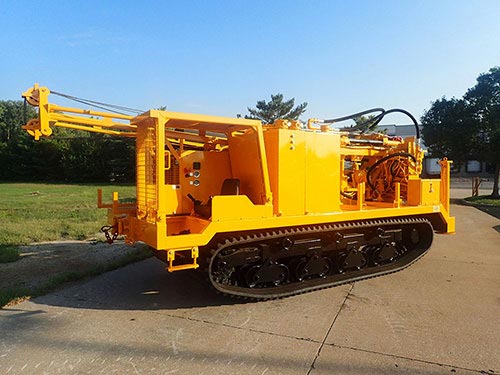 The CME-850XR is a rough-terrain drill on full rubber tracks that won't damage most pavement. With only 3.9 psi ground bearing pressure, this rig can get you to locations inaccessible to even rubber-tired ATV drills. But it can also do your city jobs on concrete or asphalt streets and parking lots.
CME designed rubber track carrier
The CME track carrier is designed specifically to support the drill and the CME drill is designed specifically to fit the carrier. The result is a compact track drill with plenty of power. At just 8 feet 7 inches (2.6 m) tall with the mast stored, the CME-850XR is easily two feet shorter than any comparable drill mounted on a track carrier. This means a lower center of gravity and greater stability when negotiating steep terrain. And at only 8 feet (2.4 m) wide, no oversize permits required for transport.
Precise steering provides agility
Independent hydrostatic track drive allows you to counter rotate the tracks and turn in place so you can easily maneuver around or between objects. Two joystick controllers, one for each track, are conveniently located adjacent to the operator. A rocker switch on the top of each joystick controls the engine speed. The two speed drive motors providing maximum pulling power in low range and maximum speed in high range can be shifted on the fly.
ROPS protection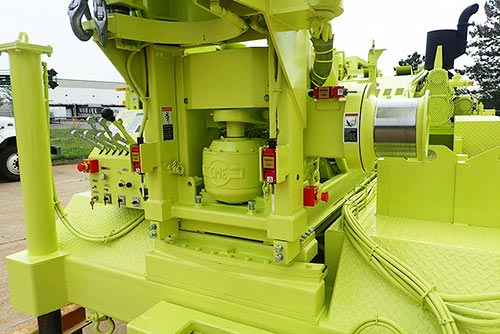 A roll-over protective structure is standard on the CME-850XR. It meets SAE specification J1040C and includes a front brush guard.
High torque rotary drive provides 15,410 ft/lbs (20,893 Nm) at the drill spindle
You get the torque you need for auger drilling up to 15 inch holes, as well as rotation speeds near 670 rpm for core drilling applications. With 5 forward gears and one reverse, there is a rotation speed and torque combination available for just about any situation. The rotary drive transmission is driven through a torque converter that provides shock overload protection.
Hydraulic feed and retract system provides 28,275 pounds (12,825 kg) of retract force and 18,650 pounds (8,460 kg) of down pressure
Twin hydraulic fuel cylinders mounted in line with the drill spindle give you precise control of force on the drilling tools. Flow and pressure controls let you dial in a specific feed rate and feed pressure. Retract rates of up to 90 feet (27.4 m) per minute let you add or remove drilling tools quickly.
Patented spindle brake stops rotation in an instant†
An emergency spindle brake stops rotation in less than one revolution. This system is activated by two conveniently located push button switches as well as strategically located wobble switches.
Slide bases make the job easier and quicker
A 15 inch (38.1 cm) in-out movement allows you to quickly move the drill off the borehole and align the sheaves for lifting tools with the cathead or any of the hoists. A 6 inch (15.2 cm) sideways movement gives you even more versatility. Aligning augers or rods when making connections is easy, or if a bit drifts off at an angle when you start a hole, you can quickly straighten it to a vertical position.
Angle drill drive line for quick set up on slopes
The angle drill drive line allows you to drill vertically with the carrier positioned on an uphill slope. That can eliminate the time consuming job of leveling the rig. This unique system is also very beneficial when drilling underneath ponds, storage tanks or other structures. When used with our patented continuous sample tube system, you even take soil samples while drilling angle holes.
Single engine = less shop time, more field time
Like every all-terrain drill we manufacture at CME, a single engine powers both drill and carrier which means less time in the shop servicing the machine and more time in the field. A single engine also means lower operating and maintenance costs throughout the life of the machine.
† Patented by Central Mine Equipment Company
850XR Features | 850XR Specifications | 850XR Optional Equipment
Performance ratings are based on engineering specifications, calculations and accepted industry standards.
Capacities may vary according to drilling conditions. CME reserves the right to amend these specifications at any time, without notice.