Cummins diesel power
The CME-45C is powered by a Cummins QSF 2.8, turbocharged diesel engine meeting tier-4 final emissions standards.
Hydraulic feed and retract system provides 19,600 lbs. (8,891 kg) of retract force and 13,650 lbs. (6,192 kg) of down pressure
The 68 inch (173 cm) stroke, hydraulic vertical drive system feed cylinders are in line with the rotary drive coupling for precise control of force on the drilling tools.
Rugged mechanical rotary drive with up to 4,858 foot pounds (6,587 Nm) of torque
Several torque and rotation speed combinations are available, including a high-speed rotary drive that gives you up to 760 rpm. The four speed transmission is connected to the drill engine through a heavy-duty clutch. With four forward gears and one reverse, there's a rotation speed and torque combination available for just about any situation. The mechanical rotary drive also gives you a good feel for changes in soil and drilling conditions down the hole. It allows you to sense the need to adjust feed pressure and rotational torque.
Slide bases make the job easier and quicker
Both in-out and sideways slide bases are standard equipment. A 15 inch (38.1 cm) in-out movement allows you to quickly move the drill on and off the borehole and align the sheaves for lifting tools with the cathead or any of the hoists. A 8 inch (20.3 cm) sideways movement gives you even more versatility. Aligning augers or rods when making connections is easy. If the bit drifts off at an angle when you start a hole, you can quickly straighten it to a vertical position. Since the upright and optional mast are mounted directly to the drill frame, they move with the drill when the slide base is used. That means you can drill in any position within a 170 square inch (1097 cm²) area without moving the carrier.
Angle drilling system for special applications†
This unique system allows you to drill holes at various angles from vertical to 45 degrees off horizontal. It is especially effective for drilling under ponds, storage tanks or other structures. When used with our patented Continuous Sample Tube System, you can even take soil sample while drilling angle holes. The angle drilling system will also allow you to drill vertically with the rig positioned on an uphill slope. That can eliminate the time consuming job of leveling an area on which to place the rig. Since the kelly drive is directly connected to the right angle drive box, you can raise and lower the mast with the drive train already connected and ready to go.
Control logic ― the key to operator productivity
All drilling and set-up controls are logically arranged on a control panel located at the drillers station. A lock-out position for the clutch lever helps prevent accidental engagement. And since the transmission does not travel vertically with the spindle, you won't find yourself unable to change gears when you're at the top of the feed stroke.
Patented spindle brake stops rotation in an instant†
Our emergency spindle brake can stop rotation in less than a revolution. This system is activated by two conveniently located push button switches, as well as by strategically located multi-directional wobble switches.
CME track carrier for CME drills
The CME-300 rubber track carrier is specifically designed and built for CME drills. This means best possible weight distribution and utilization of available space. Tool boxes, auger and drill rod racks are standard equipment. Single and two-speed track drive options are available. Removable steel belly pans provide protection every day and access when needed.
Remote control track drive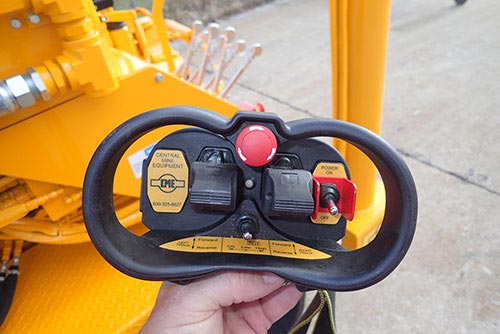 Track drive controls, engine throttle and carrier winch are all operated by remote control giving the operator freedom to monitor the machine from all sides. Emergency back-up manual controls are included.
Rubber tracks for all site conditions
Steel core reinforced rubber with embedded steel grousers offer durability and climbability, but will not damage pavement. Ground bearing pressure as low as 4psi (with optional 18 inch wide tracks) means little environmental impact.
† Patented by Central Mine Equipment Company
45C/300 Features | 45C/300 Specifications | 45C/300 Optional Equipment
Performance ratings are based on engineering specifications, calculations and accepted industry standards.
Capacities may vary according to drilling conditions. CME reserves the right to amend these specifications at any time, without notice.