No CDL required
The CME-45B is commonly mounted on 4x2 and 4x4 trucks rated at or under 26,000 pound GVWR.
Hydraulic feed and retract system provides 19,600 lbs. (8,891 kg) of retract force and 13,650 lbs. (6,192 kg) of down pressure
The twin 68 inch (173 cm) stroke hydraulic feed cylinders are mounted in line with the rotary drive coupling applying direct force to the drilling tools.
Ideal for pavement coring
The fixed vertical feed frame of the CME-45B makes it an ideal machine for pavement coring jobs. The mast can remain folded in its storage rack as you move quickly from one pavement core to the next. Water systems options are available for cooling and cleaning the core bit. A coring guide with bearing-type rollers easily adjusts to the diameter of your core barrel. It also adjusts for height and is easily removed when not needed.
Rugged mechanical rotary drive with up to 4,858 foot pounds (6,587 Nm) of torque
Several torque and rotation speed combinations are available, including rotary drive speed up to 760 rpm. The four speed transmission is connected to the drill engine through a heavy-duty clutch. With four forward gears and one reverse, there's a rotation speed and torque combination available for just about any situation. The mechanical rotary drive also gives you a good feel for changes in soil and drilling conditions down the hole. It allows you to sense the need to adjust feed pressure and rotational torque.
Control logic — the key to operator productivity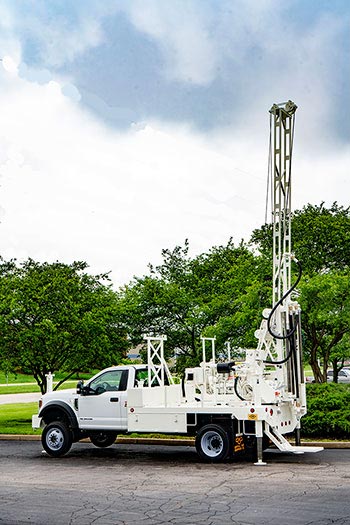 All drilling and set-up controls are logically arranged on a control panel located at the drillers station. A lock-out position for the clutch lever helps prevent accidental engagement. And since the transmission does not travel vertically with the spindle, you won't find yourself unable to change gears when you're at the top of the feed stroke.
Patented spindle brake stops rotation in an instant†
Our emergency spindle brake can stop rotation in less than a revolution. This system is activated by two conveniently located push button switches, as well as by strategically located multi-directional wobble switches. All switches are located on the drill and are not affected if removed from the carrier.
Dependable Cummins diesel power
The CME-45B is powered by a Cummins QSF 2.8, 171 cubic inch, 65 Horsepower Tier-4 final diesel engine.
† Patented by Central Mine Equipment Company
45B Features | 45B Specifications | 45B Optional Equipment
Performance ratings are based on engineering specifications, calculations and accepted industry standards.
Capacities may vary according to drilling conditions. CME reserves the right to amend these specifications at any time, without notice.