---
CME-800XR Rubber Track Carrier
Features
800XR Features | 800XR Specifications
CME-800XR Rubber Track Carrier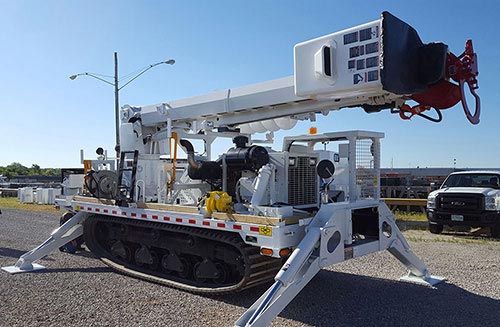 The CME-800XR features a two-speed hydrostatic drive and full rubber tracks. The low ground bearing pressure and high tractive effort of this heavy duty machine provides excellent off-road capability. And, since the rubber tracks won't damage most pavement, you can also use this carrier on concrete or asphalt. An automatic hydraulic track tensioning system maintains optimal track tension to improve performance and reduce wear. It also allows you to release track tension and retract the idler sprocket for easier service.
The CME-800XR has a 16,000 lb payload. The full length frame will accept just about any piece of equipment that's normally mounted on a truck. That means installation time and effort (and therefore cost) is minimal.
Payload: 16,000 pounds (7,257 kg)
195HP (145 kw), 6 cylinder turbocharged Cummins tier-4f diesel engine
Walking beam suspension
Hydrostatic drive
Full rubber tracks
Low center of gravity
High ground clearance
Optional all-weather enclosed cab
800XR Features | 800XR Specifications
Performance ratings are based on engineering specifications, calculations and accepted industry standards.
Capacities may vary according to drilling conditions. CME reserves the right to amend these specifications at any time, without notice.


| | | | | | | | | |

| | | | | | | |

| | | |


Copyright© 2023. Central Mine Equipment Company. A Missouri Corporation. All rights reserved.

4215 Rider Trail North · Earth City, MO 63045 · · · Fax (314) 291-4880 · ·

8:00 a.m. - 4:30 p.m. Central Time (CT)

Proudly made in the U.S.A. since 1928.