Cummins power
The CME-550X uses a single Cummins QSF 3.8L [229 cubic inch] 4 cylinder turbocharged and charge air cooled diesel engine to power both driving and drilling. That means lower overall weight, more available space, and less maintenance costs. Power from the single engine is distributed through a heavy duty air-shift tranfer case.
Low ground bearing pressure also means less impact on the environment
Ground bearing pressure of the CME-550X is only 9 psi [.632 kgf/cm²] to 11 psi [.773 kgf/cm²], depending on tools on board. Compare that to 35 psi [2.46 kgf/cm²] to 50 psi [3.515 kgf/cm²] ground bearing pressure of a truck-mounted drill. This high flotation lets you negotiate mud, snow, sand, and rocks…all with less damage to the terrain. That can be extremely important in environmentally sensitive areas such as parks, farms or golf courses.
Low center of gravity and high ground clearance
In order to keep the center of gravity as low as possible, we mounted the drill to the carrier frame, in-between the tires. We also mounted the two water tanks underneath the deck for even more stability. Their combined capacity is 160 gallons [605.7 L]. The underside of the CME-550X is protected by a steel belly pan with 22 inches [55 cm] of ground clearance.
Planentary front and rear axles with no-spin differentials and aggressive all-terrain tires…the ultimate combination for off-road traction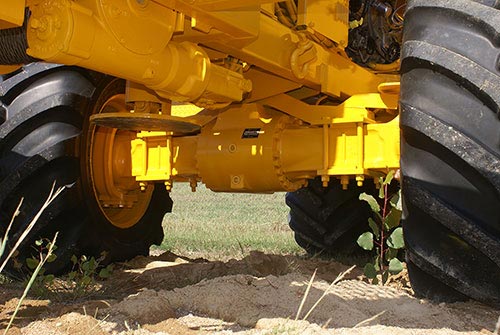 Planetary axles put the gear reduction at the wheels. That means less stress on other drive train components; and no spin differentials give you true 4-wheel pulling power. Even though the rear of the drill is heavier by design (for optimum drilling performance), front and rear ground pressure is equal, thanks to the wider tires in the rear. The agressive lug design of the 16 ply mud and snow tires provides a deep, sharp bite in soft terrain; and the open-center tread pattern assures efficient self-cleaning action. The front axle oscillates when traveling on uneven terrain allowing all four tires to remain on the ground for better traction and load distribution. Hydraulic, wet disc type, service brakes are located at each wheel for maximum stopping power. Since they are enclosed inside the planetaries, they are not adversely affected by mud and water. An independent, mechanically applied, hydraulically released, disc parking brake on the drive line is also provided.
The CME-550X gives you the versatility to handle drilling jobs that are on Main Street
The CME-550X's rubber tires will not damage most paved surfaces. A front axle disconnect allows you to shift from 4-wheel to 2-wheel drive to prevent axle wind-up when driving on hard pavement. Since the CME-550X is not over width, it is easily transported on a trailer any time of the day or week without special permits.
ROPS protection is standard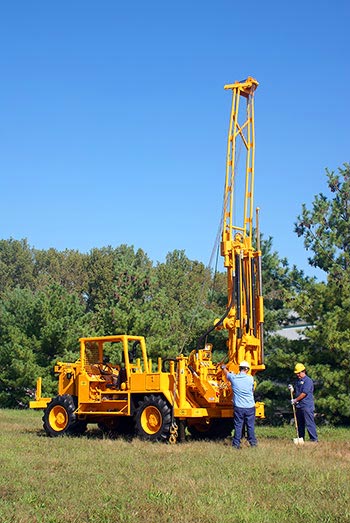 A roll-over protective structure is standard on the CME-550X. It meets SAE specification J1040C.
Integral design gives you a completely self contained drilling unit with no compromises
Since we designed the carrier ourselves as an integral part of the overall drill, we were able to utilize all space to the best advantage. The deck layout provides plenty of easily accessible storage area for augers, rods, and other drilling tools. The 121 inch (307 cm) wheelbase accommodates 5 foot (1.5m) augers in a rack below deck, between the front and rear tires. Lockable tool boxes are provided on both sides of the drill. The CME-550X can carry everything you need to get the job done.
Hydraulic feed and retract system provides 28,275 pounds [12,825 kg] of retract force and 18,650 pounds [8,460 kg] of down pressure
The vertical drive system has twin hydraulic cylinders aligned with the drill spindle for precise control of force on the drilling tools. Retract rates up to 90 feet [27.4 m] per minute and feed rates of 55 feet [16.8 m] per minute let you add or remove drilling tools quickly. The distance from the sheaves to the ground is 26 feet [7.9 m]. That means you can hoist 20 feet [6 m] of rods with clearance to spare. When equipped with three hoists, the CME-550X can pull 60 feet [18.3 m] of rods without having to lay any down on the ground or on the deck.
Dependable mechanical rotary drive provides 9,080 foot pounds [12,310 Nm] of rotary torque, plus high rotation speed when you need it
You get the torque you need for auger drilling as well as rotation speed of 690 rpm for rotary or core drilling applications. Other optional rotation speed and torque combinations are also available, including spindle torque up to 11,345 foot pounds (15,382 Nm) and a high-speed rotary drive that gives you spindle rotation speeds up to 920 rpm. With 5 forward gears and one reverse, there is a rotation speed and torque combination for just about any situation. And since the transmission does not travel vertically with the spindle, you will never find yourself unable to change gears when you're at the top of the feed stroke.
Patented spindle brake stops rotation in an instant†
An emergency spindle brake stops rotation in less than one revolution. This system is activated by two conveniently located push button switches as well as by strategically located wobble switches.
Slide base makes the job easier and quicker
The drill is mounted to the carrier on a hydraulically actuated sliding base. A 15 inch [38.1 cm] in-out movement allows you to quickly move the drill off the bore hole and align the sheaves for lifting tools with the cathead or any of the hoists. A 6 inch [15.2 cm] sideways movement gives you even more versatility. Aligning augers or rods when making connections is easy, or if the bit drifts off at an angle when you start a hole, you can quickly straighten it to a vertical position. If you have ever tried to line up your rig on an existing borehole, you certainly can see the benefit of the slide bases.
Patented angle drilling system†
This unique system is especially effective for drilling underneath ponds, storage tanks, or other structures. When used with our patented Continuous Sample Tube System, you can take soil samples while drilling angle holes. The angle drilling system will also allow you to drill vertically on an uphill slope. That can eliminate the time consuming job of leveling the rig. And, since the kelly drive is always coupled to the right angle drive box, you can raise or lower the mast with the drivetrain already connected and ready to go.
† Patented by Central Mine Equipment Company
550X Features | 550X Specifications | 550X Optional Equipment
Performance ratings are based on engineering specifications, calculations and accepted industry standards.
Capacities may vary according to drilling conditions. CME reserves the right to amend these specifications at any time, without notice.