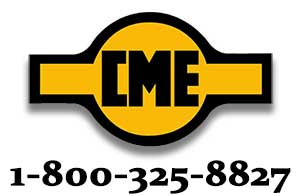 ---
CME Response to
COVID-19 (Coronavirus)
UPDATE 7/24/20 - We have been very fortunate at CME to remain open throughout the Coronavirus/Covid 19 pandemic. We are now fully staffed and, with some adjustments to maintain social distancing, are pretty close to our normal factory operations. We continue to follow recommended safety precautions to protect our employees and visitors.

We are experiencing some materials shortages and this may continue for months to come as factories restart and work to catch up with demand. However, to this point, it has not been significant.

Please note that our outside sales staff will not be traveling unless needed or invited. Sales are not above the safety of our families and yours. Every member of the CME Sales and Support staff is available by phone, text or email. Contact information is available on the Product Support Team tab on our website. You can also reach us at 800-325-8827 or info@cmeco.com. And again, if there is a need, we will be there.

We hope you are staying healthy out there while also staying busy with the work that is so essential to our infrastructure and to our economy.


| | | | | | | | | |

| | | | | | | |

| | | |


Copyright© 2021. Central Mine Equipment Company. A Missouri Corporation. All rights reserved.

4215 Rider Trail North · Earth City, MO 63045 · · · Fax (314) 291-4880 · ·

8:00 a.m. - 4:30 p.m. Central Time

Proudly made in the U.S.A. since 1928.