---
Rubber Tire ATV Mounted Drills | Truck Mounted Drills | Track Carrier Mounted Drills | Trailer Mounted Drills | Skid Mounted Drills
CME-45C/300 Rubber Track
Drill Specifications
45C/300 Features | 45C/300 Specifications | 45C/300 Optional Equipment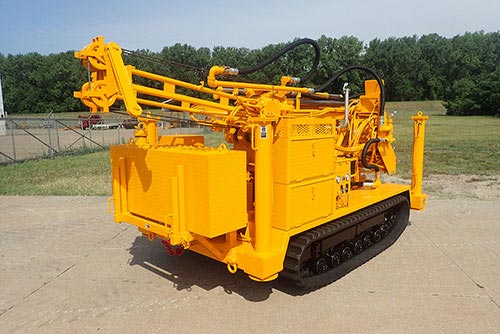 Engine
Cummins QSF 2.8 (171 cubic inch) 65 horsepower (48.5 kilowatt) four cylinder turbocharged diesel engine meeting tier-4 final emissions.
Carrier
Steel core reinforced rubber tracks with embedded steel grousers
12 inch (30.5 cm) wide tracks standard, 18 inch (45.7 cm) tracks optional
Hydraulic track tensioning system
Walking beam suspension
Zero turn radius
Single speed hydraulic motor/planetary drive/brake assembly for each track. Optional two-speed drive available.
Remote radio controlled steering and track speed
Hydraulic front winch, 12,000 pound capacity (5,443 kg), remote controlled
Emergency towing capabilities
Auger rack, drill rod rack, tool boxes on board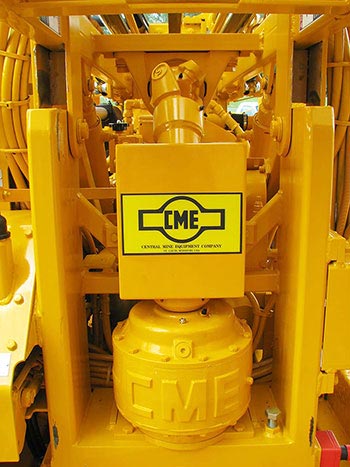 Gradeability
Straight ahead climb
Side-hill traverse
Rotary drive
Standard

Rotary Torque up to 3,530 foot pounds (4,786 Nm)
Rotary Speed up to 760 rpm

High torque

Rotary Torque up to 4,850 foot pounds (6,575 Nm)
Rotary Speed up to 550 rpm

Clutch, heavy duty 11 inch (28 cm)
Transmission, mechanical 4 speed forward, 1 speed reverse
Hydraulic feed system
Retract force 19,600 pounds (8,890 kg)
Pulldown force 13,650 pounds (6,192 kg)
Retract rate 55 feet (17 m) per minute
Feed Rate 79 feet (24 m) per minute
Stroke 68 inch (173 cm)
Leveling system
Four hydraulic jacks, inverted design with chrome-plated piston rods enclosed at all times.
Performance ratings are based on engineering specifications, calculations and accepted industry standards.
Capacities may vary according to drilling conditions. CME reserves the right to amend these specifications at any time, without notice.


TRANSLATE THIS PAGE 100+ LANGUAGES!